Strict Standards
: call_user_func_array() expects parameter 1 to be a valid callback, non-static method UltimateTagWarriorActions::ultimate_the_content_filter() should not be called statically in
/home/ggasmcom/public_html/temp/wp-includes/plugin.php
on line
163
Strict Standards
: Non-static method UltimateTagWarriorActions::regExEscape() should not be called statically in
/home/ggasmcom/public_html/temp/wp-content/plugins/UltimateTagWarrior/ultimate-tag-warrior-actions.php
on line
669
Strict Standards
: Non-static method UltimateTagWarriorActions::regExEscape() should not be called statically in
/home/ggasmcom/public_html/temp/wp-content/plugins/UltimateTagWarrior/ultimate-tag-warrior-actions.php
on line
669
Strict Standards
: Non-static method UltimateTagWarriorActions::regExEscape() should not be called statically in
/home/ggasmcom/public_html/temp/wp-content/plugins/UltimateTagWarrior/ultimate-tag-warrior-actions.php
on line
670
Strict Standards
: Non-static method UltimateTagWarriorActions::regExEscape() should not be called statically in
/home/ggasmcom/public_html/temp/wp-content/plugins/UltimateTagWarrior/ultimate-tag-warrior-actions.php
on line
670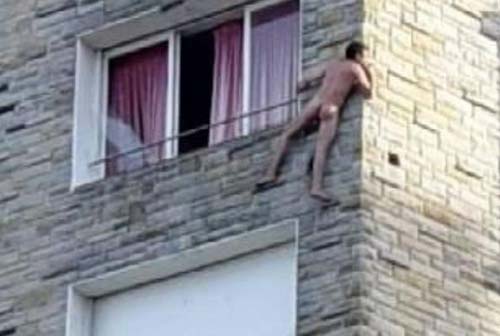 Five minutes ago this dude was having the time of his life.
Banging someone's hot wife, all of a sudden the front door opens and this big burly biker looking dude walks into the house.
No time to grab his pants, he jumps out the window, only to find there is nothing to hang onto but the corner of the building. Holy eff! 
I wonder how long that guy had to hang there.
Does your love trample all over you? Don't be a sap.
Don't be the one walking in on your wife banging another guy.
Stop the shenanigans - a tamed woman is a happy woman.
You see, many years ago, I was a doting, infatuated and adoring boyfriend to a girl named Carrie. I was in love with Carrie, and thought that someday we would get married.
I treated Carrie like gold. We went out on nice dates, I bought her the finest dinners, and jewelry and was caring and loving at all times.
Everything was fine and great in our relationship until about month number six. Our romance hit a brick wall and things were going downhill fast.
Our sexual encounters were almost non-existent, Carrie had become a nagger, constantly getting on my shit and riding me. To this day, I don't think she was having an affair, but I suspected her of talking to other men and "feeling out the water."
When I would call or come over, she would be "out." Later, when I would see her or talk to her, Carrie would give me a vague, muddled excuse as to her whereabouts and soak me for yet another expensive visit to a five star restaurant.
Guess what? I didn't realize it, but at that point, our relationship was kaput. Carrie sucked money out of my wallet for another two months before she dumped me for another man.
Does that story sound familiar? Welcome to the club.
End the cycle, click here ==>How to Tame a Woman